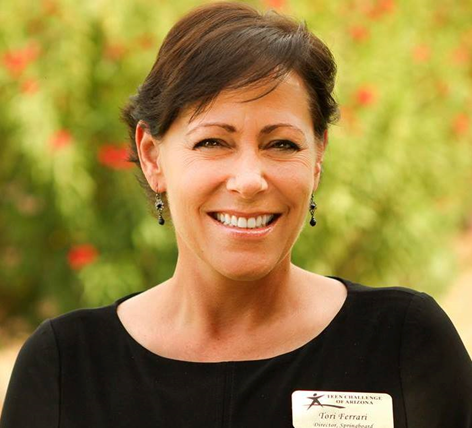 Meet the Director – Tori Ferrari, DBS/BC,   BCMHC
Tori Ferrari has been working with troubled young people and their families for over twenty years, almost 15 of those years as the Director of the Adult & Teen Challenge of Arizona Springboard Home, before moving to New England to establish Bloom with Adult & Teen Challenge New England 6 years ago. She is passionate about helping girls discover who they are in Christ as she did herself in Adult & Teen Challenge 36 years ago.   Responsible for overseeing all of the operations at Bloom, Tori strives to provide a program of excellence and the greatest opportunity for students to discover and grow in their faith. She holds her Master's Degree in Christian Counseling, her doctorate in Biblical Studies and Biblical Counseling, is a Board Certified Mental Health Coach and is an Ordained Minister with the Assemblies of God. She has been married for over 30 years to her husband Davide and has two grown sons, Alfonso and Robert, a beautiful daughter-in-law and precious grandbaby!
All of the staff at Bloom are well-trained and dedicated to ministering to the young ladies with whom we are entrusted. The following are minimum criteria that each staff member must meet in order to care for our students:
Comprehensive background checks
Medically screened
Fully trained in CPR on an annual basis
Fully trained in First Aid on an annual basis
Safe driving training on an annual basis
Universal precaution training
Mature Christians in good standing at their local church
Additionally, each of our staff meets the Continuing Education requirements established by the State of Massachusetts Office of Early Education and Child Care and Adult & Teen Challenge USA (TCUSA) on an annual basis. This training includes workshops in the area of adolescent behavior management, nutrition, respect, Christian training principles and much more, as both necessary and available.
The staff at Bloom is both professional and compassionate. In addition to being properly trained, we believe that each one working within the ministry of Bloom is called and equipped to be here. Each of us takes seriously our commitment to the Lord, the young ladies we minister to, and the families we serve.